Christmas Inspired Treats
21.12.2020
With the festive season just around the corner, I wanted to take this opportunity to wish you and your loved ones a rejuvenating and joy-filled Christmas.

Thank you for another amazing year. 2020 has certainly been one of the most unusual years I've ever experienced. It's had its challenges for sure, yet it's also come with bucket loads of blessings.

May your 2021 be a year of infinite abundance, peace and special moments with friends and loved ones.

Enjoy these special Christmas-inspired treats that you and the family can all enjoy!!!
---
Christmas Inspired Treats
by Melissa D.
I love to experiment with raw treats and felt like doing some with Christmas oil flavours such as orange, cinnamon bark, nutmeg and clove. Recipes below, enjoy!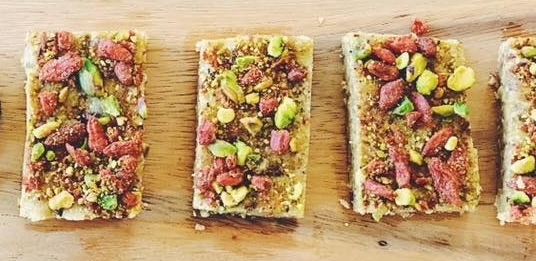 Pistachio & Cranberry Slice
Ingredients:
• 2 cups of cashews
• 1 teaspoon of Vanilla Bean Powder or Essence
• a pinch of salt
• 12 drops of Young Living Lemon oil
• 7 medjool dates
• 2 tablespoons of NingXia Red
• ⅓ cup pistachios
• ½ cup cranberries
• a handful of Young Living's Dried Wolfberries
• a handful of pistachios for topping, crushed slightly with a mortar and pestle or a quick buzz in a blender.
Method:
1. In your food processor, add cashews, vanilla essence, pinch of salt, Young Living Lemon oil, dates and NingXia Red and blend until sticky enough to hold together.
2. If it's not sticky enough, add a small amount of water of more NingXia Red.
3. Then blend ⅓ cup of pistachios and cranberries in with the mixture, keeping them slightly chunky.
4. You can roll into balls or flatten the mixture into a flat baking tray lined with baking paper.
5. Then add the handful of pistachios and goji berries on top for flavour and colour.
6. Set in the fridge for a few hours and then enjoy!
---
Mini Christmas Puddings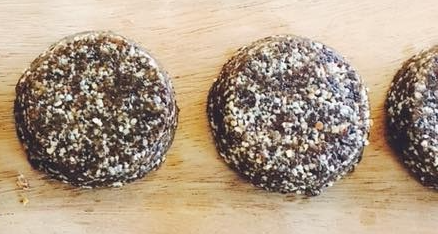 Ingredients:
• 1.5 cups dry roasted almonds
• 1 cup raisins
• ½ teaspoon mixed spice
• ½ teaspoon vanilla extract
• 2 small strips of peeled orange rind
• 3 drops of Young Living Orange oil
• 1 drop of Young Living Cinnamon Bark oil
• 1 drop of Young Living Clove oil
• 1 drop of Young Living Nutmeg oil
Method:
1. Place all the ingredients into the food processor and blend until they are well combined and sticking together.
2. Press the mixture firmly into the holes of a mini silicon muffin/cupcake mould and place in the fridge to set.
If you love Christmas pudding flavour you will love this healthy version.
---
Choc Mint Stick by Kelly G.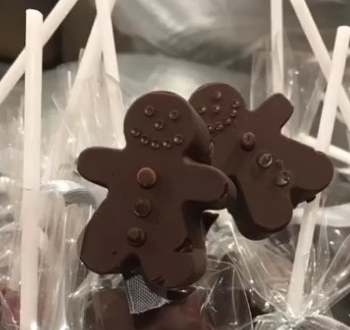 A little bit of Christmas joy, that is a huge hit with all the big and little kids!!
Just melt some of your favourite dark chocolate, add a few drops of Young Living Peppermint oil, and pour into a shape mould with a stick.
You can eat this by itself, or stir it into a warm cup of milk (or milk alternative).
---
Chia Pudding by Sam D.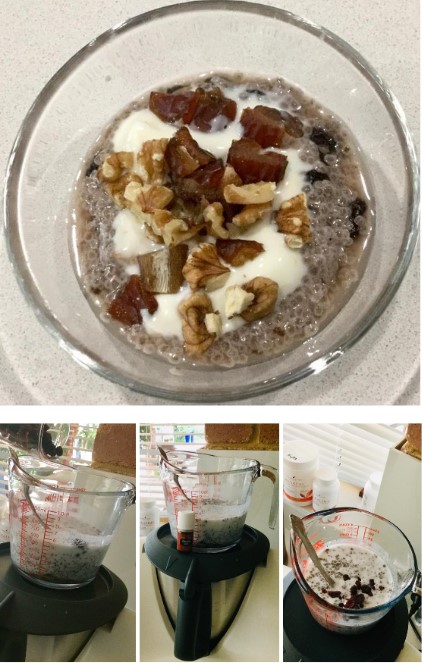 I've made a beautiful breakfast using Chia Seeds. It's fantastic for a "scoop and run" for early-start mornings or for work. The flavour reminds me of a Christmas Pudding!!!
I love adding essential oils to anything culinary. A few drops of Cinnamon Bark oil added to Chia Seeds is a perfect combination for staying happy and healthy over our festive season. It makes approximately 4 serves. Enjoy!
Ingredients:
• 40g Chia seeds
• 450ml Almond Milk
• 1 tablespoon of honey or natural sweetener of choice
• ½ cup dried cranberries
• ½ cup dried blueberries
• 2 drops of Young Living Cinnamon Bark oil
Topping:
• 1 chopped date
• 3 crushed walnuts
• your favourite yoghurt or coconut yoghurt
Method:
1. Add all ingredients together and stir well in a glass bowl.
2. Cover and leave overnight.
3. Top with yogurt, dates and walnuts.
---
Here's how to Order…
If you already have your own wholesale account with Young Living, you can order through the shopping cart on your virtual office, or via phone or live chat with your local Young Living office.
If it's been more than 12 months since you've ordered, or if you've never set up an account, please reach out to the person who introduced you to Young Living. You will need their member number when you place your first order.
If you have lost touch with them, or need any other assistance, we are here to help. Simply click on the button below, and we'll be in touch to assist you and help answer your questions.
---
If you would love to receive our essential oils bulletin
from The Oil Temple, CLICK HERE to subscribe
If you're not already receiving our weekly
Raw Divinity bulletin, CLICK HERE to subscribe